News
31.12.12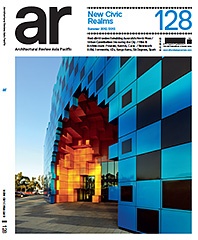 Architecture Review Summer 2012/2013 #128 COVER STORY
ARM's Wanangkura Stadium is the cover story of AR's summer edition. Named for the local Aboriginal word for cyclone, the building is as a mirage, a shimmering, rippling effect on an otherwise flat landscape. It's not every shoot that you have a building happily activated by the whole town; premier league basketball, football, a carnival AND fireworks! Wanangkura Stadium is in Port Hedland in the remote North West of Western Australia.
03.12.12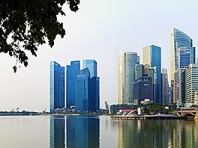 Marina Bay Financial Centre Singapore
I've been busy in Singapore for Kohn Pedersen Fox photographing four crystaline 50-storey towers that make up the iconic Marina Bay waterfront development. Singapore's gloomy haze and humidity made it difficult - the taxi drivers will tell you it's due to the burning rain-forests in Indonesia. But fortune favours the brave and we were always poised for the faintest clearing of the skies!
02.12.12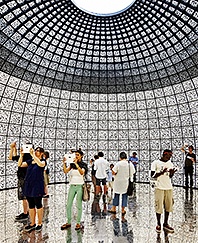 Venice Biennale photo essay for (inside) magazine
Commissioned for the latest issue of (inside) magazine #74 I've photographed and written of the highlights from the 13th International Architecture Exhibition in Venice. Always a pleasure working with editor Leanne Amodeo and art director Michael Bojkowski. Pictured is the Russian Pavilion, every surface covered by enlarged QR codes.
01.11.12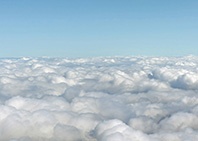 Looking Down, A view from the clouds
Commissioned by Piccolo and Cornwall - A view from the clouds is an interpretative art piece by photographer Peter Bennetts. From the heady heights of the clouds we asked Peter to explore the macro view afforded by simply being elevated. Melbourne didn't disappoint. This stunning point of view exposes some of the rich texture of Melbourne - from architecture in development up to icons complete. There is nothing but an upside down outtake when looking down on this beautiful international city.
27.08.12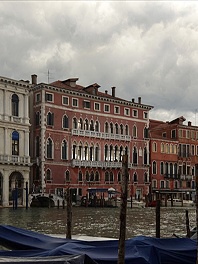 la Biennale di Venezia Italy 'Traces of Centuries & Future Steps' Exhibition
I'm in hot and sultry Venice for the Architecture Biennale and particularly 'Traces of Centuries & Future Steps' my exhibit with Paul Morgan in the Palazzo Bembo which opens today. I've photographed Morgan's work, process and environment which will be presented as two simultaneous looping videos and a soundscape. Michael Quinlan has edited the fine production. Hope you can see it and let me know what you think! That's the Palazzo pictured.
05.07.12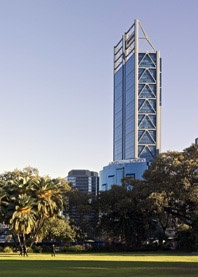 Brookfield Place Perth
Brookfield Place Perth is a just completed commercial precinct featuring a new 45-storey tower designed by HASSELL. The tower's anchor tennant is BHP Billiton. The development includes retail and great restaurants in a restored series of heritage buildings that front onto St Georges Terrace. I'm thrilled to be working with good friend and editor Helen Kaiser and the whole team at publisher Hardie Grant on a book of the development.
30.06.12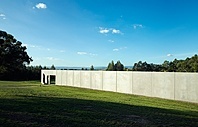 AUSTRALIAN INSTITUTE OF ARCHITECTS 2012 VICTORIAN AWARDS
Last nght was a big one at the AIA 2012 Victorian Chapter Awards held at the house of spin - Melbourrne's Crown Casino. Congratulations to all the winners! Really wonderful to see emerging practice Folk Architects win an Architecture Award in the Comercial Category with Medhurst Winery in the Yarra Valley. I'd photographed a good number of the winners including NMBW's Fitzroy Apartments, Minfie Van Schaik's Edithvale Discovery and Mildura House, Susi Leeton's Treehouse, HASSELL's Dandenong GSO, Edwards and Moore's Artist Car Park Studio, Andrew Maynard's Hill House, BKK and Peter Elliot's Hi-Pod and the aforementioned Medhurst Winery.
06.06.12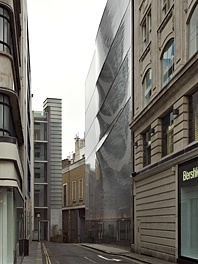 OTTO Launch Party SOHO June 13
I'm looking forward to the OTTO launch party next week, June 13. Let me know if you're in New York and would like to come for a night of fun, celebration and cheers in SOHO! "OTTO represents the best photography of architecture and design, dedicated to licensing the work of preeminent architects and designers from around the world as captured by master contemporary photographers."
23.05.12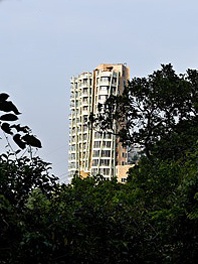 Opus Hong Kong
in Hong Kong to photograph Gehry Partners Opus Hong Kong at 53 Stubbs Road, The Peak. I thought a great way to experience and photograph the building would be to scale Victoria Peak starting from the harbour...a hell of a climb with a camera bag and tripod through surprisingly tropical and verdant jungle. The building is more easily visited in a chauffer driven Maybach or Rolls Royce!
18.05.12
30 St Mary's Axe
Stepping out of the 'The Association' in London's Creechurch Lane you're at once confronted by Foster + Partners 'The Gherkin' formerly 'Swiss Re' building which at 30 St Mary's Axe occupy's the site of the former Baltic Exchange building damaged beyond repair by an IRA bomb. There are a lot of 'formers' in The City...
30.04.12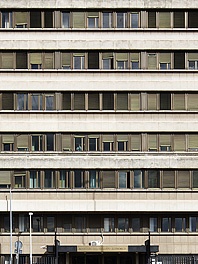 Ministero della Sviluppo Economico Rome
The latest in the European Finance Ministries series - Italy's 'Ministero della Sviluppo Economico'. The crumbling building in Rome's EUR district features roller shutters that read together as bar graphs, potted rubber trees and a mysterious figure on the 4th floor striking a Medici like pose. Meanwhile in the car jammed street Roman youths in tricolore tracksuits practise 'parkour'.
22.03.12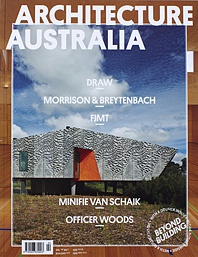 ARCHITECTURE AUSTRALIA March/April 12 Vol.101 No2 COVER STORY
Cover story of the very wonderful relaunch issue of Architecture Australia magazine is Minifie van Schaik's sublime Edithvale-Seaford Wetlands Dicovery Centre. Wolf and Magnus and their friend Lily discover the buiding, test the features and view the birds.