News
Twitter Updates

(Save the) Marion Cultural Centre, Adelaide, South Australia. ARM Architecture and Phillips Pilkington Architects i… https://t.co/4x0B2UpeeB

RT @AusINSArch_VIC: Tonight's final award is the 2017 Victorian Architecture Medal which goes to Victorian Comprehensive Cancer Centre by s…

RT @AusINSArch_VIC: We will be tweeting the Named Award winners as they are announced LIVE tonight. Follow #VicAwards17 for all the updates!

Congratulations to MORQ on the Marshall Clifton Award for Residential Architecture in the WA… https://t.co/KvxfZ8s997

Dorman House, Lorne. Austin Maynard Architects, 2016. Is it a jetty? Is it a new house? Is it an… https://t.co/DAOv0gtJkE

Elbphilharmonie, Hamburg, Germany. Herzog & de Meuron, 2016. The plaza connects the old… https://t.co/k8NjsMGrtX

Dusk, Coogee House, Sydney. Chenchow Little 2016. Concrete, Painted Steel, Painted Aluminium,… https://t.co/LmcBU1Q6Z7

Mackenzie & Angus get air off the speed-hump. Haven't you Always wanted...? Aka the Hot Pink Car… https://t.co/V3A16QcC6a
22.06.16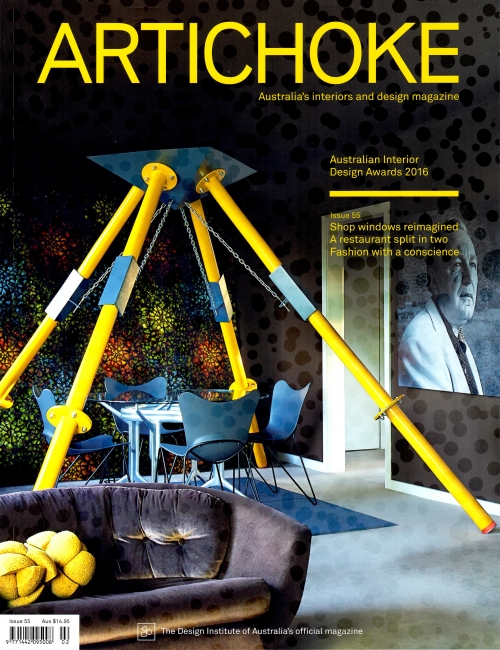 Artichoke Magazine Cover Story Issue 55 June 2016
Super stoked to see Studiobird's Dining Shrine and Bruce Goff portrait on the cover of the awards edition of Artichoke Magazine. Thanks Artichoke! Theodora Treehouse, Matt Bird's own bespoke intervention in a rented apartment won the Residential Decoration category at the 2106 Australian Interior Design Awards. Australia's Premier Award for Interior Design went to Chenchow Little for Darling Point Apartment features too in this issue - Darling Point Apartment also won the Residential Design Category. Congratulations to all the winners!