News
Twitter Updates

(Save the) Marion Cultural Centre, Adelaide, South Australia. ARM Architecture and Phillips Pilkington Architects i… https://t.co/4x0B2UpeeB

RT @AusINSArch_VIC: Tonight's final award is the 2017 Victorian Architecture Medal which goes to Victorian Comprehensive Cancer Centre by s…

RT @AusINSArch_VIC: We will be tweeting the Named Award winners as they are announced LIVE tonight. Follow #VicAwards17 for all the updates!

Congratulations to MORQ on the Marshall Clifton Award for Residential Architecture in the WA… https://t.co/KvxfZ8s997

Dorman House, Lorne. Austin Maynard Architects, 2016. Is it a jetty? Is it a new house? Is it an… https://t.co/DAOv0gtJkE

Elbphilharmonie, Hamburg, Germany. Herzog & de Meuron, 2016. The plaza connects the old… https://t.co/k8NjsMGrtX

Dusk, Coogee House, Sydney. Chenchow Little 2016. Concrete, Painted Steel, Painted Aluminium,… https://t.co/LmcBU1Q6Z7

Mackenzie & Angus get air off the speed-hump. Haven't you Always wanted...? Aka the Hot Pink Car… https://t.co/V3A16QcC6a
10.12.07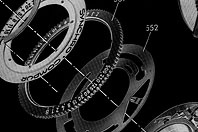 Peter Bennetts Photographer identity
The Peter Bennetts Photographer logo and business card has attracted its fair share of comment and compliments. There's nothing better than handing over a business card and watching the perplexed recipient holding it up to the light and turning it over…and over…and over. Its ingenious design was from the hand of the talented Stuart Geddes of Chase & Galley and references a Compur shutter - a mechanical shutter similar to the ones with which I photograph (and that makes the click and whirrr on this website's splash page).