Projects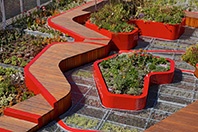 Green infrastructure, including the installation of plants on under-utilised urban surfaces, can provide significant benefits for our cities. These green interventions can cool the urban environment, reduce energy consumption, mitigate flooding and increase habitats for biodiversity. They provide an opportunity to evolve the way we develop the built environment, to maximise existing infrastructure and lower the need for costly upgrades.
The Burnley Living Roofs at the University of Melbourne's Burnley Campus is a world-class research and teaching facility – and the first of its kind in Australia. The University has established the facility to demonstrate to the wider community how green transformations can be achieved in our cities, aspiring to lead through example.
Designed by HASSELL in close collaboration with the University's leading academic green roof technology and urban horticulture researchers, the Burnley Living Roofs provide purpose-built facilities for the University to continue their pioneering research. They also enable the University to carry on providing information and independent advice on green infrastructure technologies that is practical and deliverable in the Australian climate.
The design is unapologetically bold and captures attention. It seeks to gain exposure by attracting interest from the design community, stakeholders in sustainable development and the media to promote discussion and education on green infrastructure and living buildings.
The design process for the project involved a true collaboration with the University. Their specialist knowledge and the outcomes of their previous research projects greatly influenced the HASSELL design approach and the overall project outcome.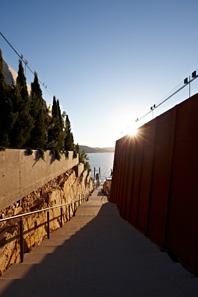 In all the fuss over the art and architecture of MONA, it's often forgotten that much of what makes this private museum so special is the experience of its landscape. Landscape architecture practice Oculus has crowned the ochre, fortress-like walls of Fender Katsalidis' indisputably iconic design in fractured planes of vegetation and concrete. Carefully orchestrated to guide foot traffic through a staggered series of platforms to the museum's entrance, the spare, manmade topography of the site also provides key moments of outlook to the spectacular riparian landscape of Tasmania's Derwent River, virtually ensuring the museum leaves an indelible impression on the visitor, quite apart from the art.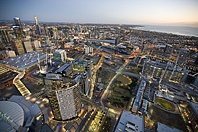 I'm currently working on a book celebrating rush/wright associates' 10 years of innovative landscape architecture. Much of the shooting is from helicopters with a technique I've developed using gyroscopes to photograph in the low light of the late evening. Photographing from a vibrating, moving helicopter presents a challenge, particularly when sitting harnessed out of the aircraft door in the rotorwash, hand-holding a 10kg+ rig!